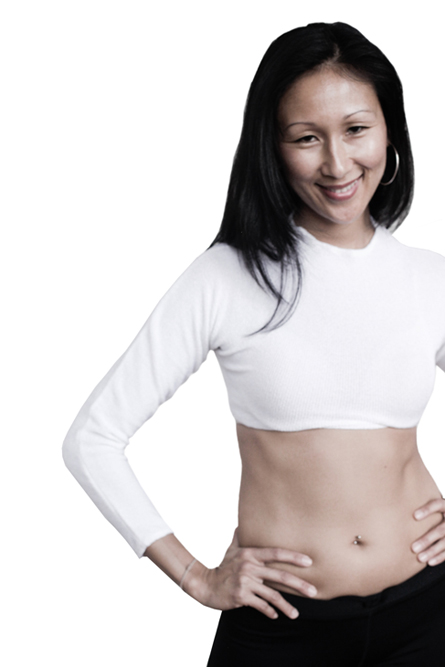 Email: julia@jscfitness.com
National Academy of Sports Medicine (NASM) Certified Personal Trainer
National Academy of Sports Medicine (NASM) Corrective Exercise Specialist
Sonic Yoga 200 RYT (Registered Yoga Teacher)
Pre and Post Natal Certified
TRX and Kettlebell Certificatied
Functional Movement Stretch Specialist
Thai Yoga Massage Experience
Boxing Experience
ABOUT
It started when a good friend called her "Gym Chan". She got the nickname because she spent hours – sometimes 3 hours a day – in the gym, working out and socializing. Members began to ask her for exercise advice. That's how her journey through fitness began and her career as one of New York's outstanding trainers was born.
Today, certified as a Personal Trainer through NASM since 2003 and a Registered Yoga Teacher (RYT) recognized through Yoga Alliance more than five years, Julia's unique training techniques focus primarily on functionality and alignment so that the body remains safe, strong, and, more importantly, efficient and pain free. The demanding exercises she recommends and the commitment she exemplifies not only produce a fit body but train clients to live a stronger,longer and healthier life beyond the gym.
Julia's training philosophy is built on healthy and fit – inside and out – in every aspect of your life. The work that you do in a gym, class, studio, or at home affects your performance in every step of your day. Being aware of your body and how strong it is along with understanding how positive and infectious your energy can be helps influence others to live a life of wellness. Living a fit life is so much more than the hours logged in a gym workout; it's being in tune with your body, whether it be the way you move to the food you eat to the people that you meet daily. While clients' goals may to be to lose weight and get in shape, Julia is only satifisied if they also understand and live that philosophy. Only then can she feel her job is complete.
Like the exercise industry itself, Julia's fitness education is always evolving with an eye towards keeping her training both challenging and fun. Mixing boxing with yoga techniques, TRX with kettlebell exercises, ballet barre stretches with restorative yoga, makes her sessions original and unlike any others offered in the city. No two sessions are the same with Julia but all are guaranteed to work out every muscle group.
Julia's "tough love" style is what makes her clients work hard each time and faithfully return for more. Her honest passion for fitness shows in every direction she gives her clients. Her attentive support motivates her clients to do their personal best. Her ultimate ambition is to see her clients achieve their goals AND embrace a healthy and fit lifestyle of their own.
Julia currently trains out of select independent training facilities and fitness studios in New York City. You can also find Julia teaching group fitness and yoga classes at multiple Crunch Gyms. For more information on working with Julia, please connect with her here.