The countdown has officially begun to Thanksgiving feast. So many are not only prepping to cook meals but also to gorge over 4,000 calories in one day. WHAT!? Crazy but true. But as someone who follows a gluten, dairy, and processed sugar free diet, I don't let this holiday take over. Don't get me wrong …I never skip a serving of my mom's famous stuffing and a few slices (yes…a few!!) of pecan pie but like I always tell my clients "Everything in moderation!"
There are several ways to avoid binging and overeating on this special holiday. Start eating earlier in the day, have smaller portions throughout the day, exercise in between meals, etc. But what I like to do is bring a few healthful dishes so I can enjoy meals without the guilt including my mom's stuffing and pie.
I've collected some great healthy recipes that are amazingly delicious to bring to the table. Check out what's on my menu this Thanksgiving.
APPETIZERS / SIDES
SWEET POTATO & KALE FRITTERS by Yes, More Please: makes 18-20 mini patties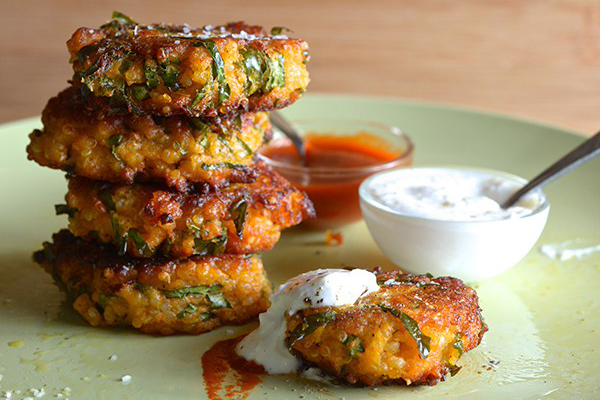 Ingredients:
1 large or 2 medium sweet potatoes steamed and pureed 
2 cups cooked quinoa
2 cups kale finely chopped
2 eggs
½ cup panko or any kind of plain bread crumbs (I use almond meal or brown rice flour)
1 teaspoon grated ginger
1 good pinch paprika or smoked paprika
1 teaspoon freshly ground black pepper
1 teaspoon kosher salt
4-6 tablespoons coconut oil
For Dipping Sauce:
¼ cup Greek yogurt
1 teaspoon freshly grated ginger
pinch of salt
pinch of pepper
*In a small cup mix all ingredients and chill.
Instructions:
a. De-vein the kale, make it into a tight roll and chop chiffonade style.
b. In medium size bowl, mix all ingredients well.
c. In a medium size pan heat up about 4-6 tablespoons of coconut oil. Scoop small patties onto the pan and slightly flatten the tops. Cook for about 3-4 minutes on each side or until golden brown.
d. Cool on a rack and serve with a side of dipping sauce.
WALNUT PESTO DIP by The Couple's Kitchen: Serves 10-12 ppl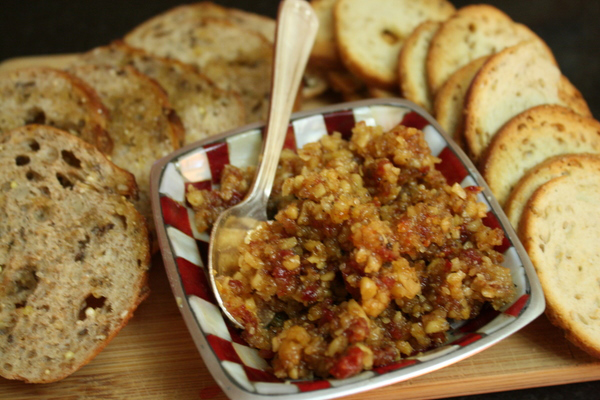 Ingredients:
2 cups whole walnuts, lightly toasted
1 cup (heaping) sundried tomatoes, packed in oil, roughly chopped
2 small to medium-sized cloves of garlic, chopped
1 teaspoon fresh thyme leaves, chopped
1 cup parmesan cheese, grated (swap with manchego, nutritional yeast or skip cheese entirely)
Few twists freshly ground black pepper
Pinch kosher salt/sea salt
Good quality extra virgin olive oil, as needed
Instructions:
a. In the bowl of a food processor, add walnuts, sundried tomatoes, garlic, thyme, cheese, black pepper and salt. Pulse several times to combine. Stream in olive oil until the mixture comes together into a coarse, pebble-like texture. Avoid over mixing.
a. Serve with gluten free chips, crackers, or pita chips.

BRUSSELS SPROUTS WITH GOGI BERRIES & SESAME SEEDS by Box of Spice: serves 4ppl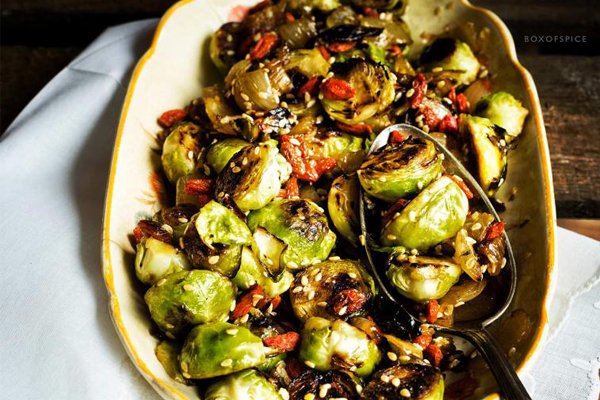 Ingredients: 
250 grams brussel sprouts
2 medium onions, chopped
1 Tbsp sesame seeds
¼ cup goji berries
4-5 Tbsp olive oil
salt and pepper to taste
Instructions:
a. Wash and half the brussels sprouts. Dry roast the sesame seeds in a non stick pan on medium high heat, for about 3-4 minutes. When you see them brown slightly, immediately remove and put in a bowl.
b. In a large pan, heat one tablespoon of olive oil and fry the onions, till golden brown and nicely caramelized (approx 5-7 min on high heat). Set aside.
c. In the same pan, add remaining olive oil and roast the brussels sprouts face down and then flip. Each side should take about 3-4 minutes on high heat.
d. Once all the brussels sprouts are done, add the onions back in. Add the toasted sesame seeds and add the goji berries last. Toss and stir!

MAIN DISHES:
CAULIFLOWER PESTO RISOTTO by Half Baked Harvest: serves 4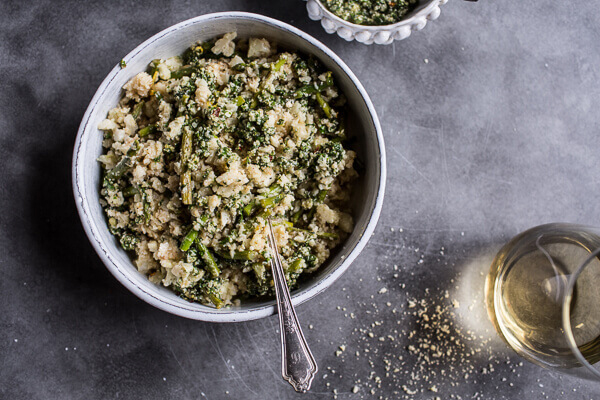 Ingredients:
1/4 cup olive oil
1/2 small onion, finely chopped
1 large or 2 small heads cauliflower, finely grated
2 cloves garlic, minced or grated
1/3 cup white wine
1 small bunch asparagus, cut into 1-2 inch sticks
1/2 cup veggie or chicken broth + more if needed
zest of 1 lemon
1/2 cup full-fat canned coconut milk
1/2-3/4 cup parmesan cheese (I use nutritional yeast)
2 tablespoons fresh parsley, chopped
Cilantro-Basil Hemp Seed Pesto
1 cup fresh cilantro, finely chopped
3/4 cup fresh basil, finely chopped
1/2 cup raw hemp seeds
1/3 cup olive oil
1 tablespoon fresh lemon juice
1 clove garlic, minced or grated
1/3 cup parmesan cheese (or nutritional yeast)
crushed red pepper, to taste
salt and pepper, to taste
Instructions:
Cilantro Basil Hemp Seed Pesto:
a. In a bowl, combine the cilantro, basil, hemp seeds, olive oil, lemon juice, garlic, cheese or alternative, crushed red pepper and a pinch of both salt and pepper.
b. Taste and adjust the seasonings as needed. Add water to thin the pesto if desired.
Risotto:
a. Heat a large, high sided skillet over medium heat and add 2 tablespoons olive oil. Add the onion, season with salt and pepper, and cook until caramelized, about 8 minutes. Then add the cauliflower and the garlic, and season with salt and pepper. Cook for 2 more minutes.
b. Deglaze the pan with white wine and cook, stirring constantly, until the liquid is almost evaporated. Stir in the asparagus. Slowly pour in the veggie broth and coconut milk and bring to a simmer.
c. Cook until the cauliflower and asparagus are tender and "risotto" is nice and creamy, about 6 to 8 minutes.
d. Remove from heat, then add the lemon zest, cheese choice, parsley and a drizzle of olive oil.
VEGETABLE QUICHE from Gimme Some Oven: serves 8-12 servings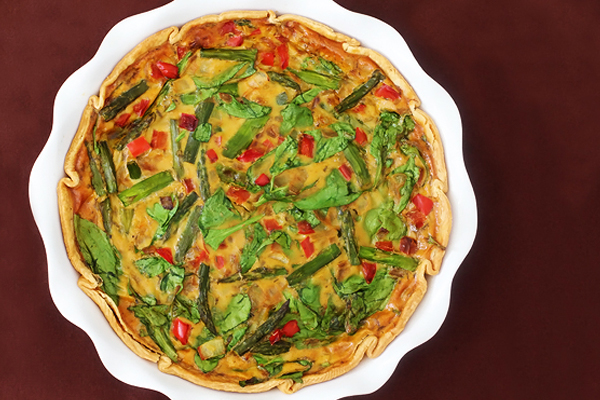 Ingredients:
1 gluten free pie crust
1 Tbsp olive oil
3 handfuls fresh baby spinach, roughly chopped if desired
1 small white or yellow onion, chopped
1 red bell pepper, diced
5-10 asparagus spears, ends trimmed then chopped into 1 inch pieces
6 eggs
3/4 cup unsweetened almond milk (or other non-dairy milk)
3 Tbsp all-purpose flour (I used rice or almond flour)
1/2 tsp baking powder
1/2 tsp salt
1/2 tsp sweet paprika
1/2 tsp dried thyme
1/4 tsp chipotle powder
1/8 tsp black pepper
Instructions: 
a. Pre-heat the oven to 350 degrees F.
b. Use a fork to poke a few holes in the bottom of the crust of unbaked pie crust, and bake it for 10 minutes. Remove and set aside.
c. Meanwhile heat oil in a large saute pan over medium-high heat. Add onions, chopped red peppers, and asparagus, and saute for 5 minutes, or until the onions are translucent and the asparagus is cooked. Remove from heat.
d. In a separate large bowl, whisk together eggs, flour, baking powder, rice or almond milk, salt, paprika, thyme, chipotle powder, and black pepper. Stir in the sauteed vegetables and fresh spinach, and stir until well combined.
e. Pour the egg and vegetable mixture into the pie crust, and use a spoon to even out the top. Place in oven and cook for 45-50 minutes, or until a toothpick inserted comes out clean. Quiche will rise while baking, but should settle back down once you remove it from the oven.
f. Remove from the oven and allow the quiche to set for at least 5 minutes. Then slice and serve immediately.
DESSERT
Ingredients:
1 large ripe avocado (or 2 small)
30g raw, unsweetened cocoa powder
60ml coconut milk (or any nut milk of your choice)
2 tbsp honey or maple syrup
1 tbsp coconut oil, melted
1 chunk of bittersweet dark chocolate, grated
2 tsp cocoa nibs (optional)
Instructions: 
a. In a food processor, purée the avocado until smooth.
b. In a jug, combine the cocoa powder and milk until a smooth paste forms.
c. Add the cocoa and milk mixture to the avocado, along with the remaining ingredients.
d. Blend everything together until smooth and well combined.
e. Transfer the mixture into individual bowls and chill in the fridge until ready to serve.
f. Top with grated bittersweet dark chocolate and sprinkle over cocoa nibs.
Feel free to follow the recipes as they are (recipe links in the title) but I made some modifications to fit my gluten/dairy -free diet. These are all delicious and easy recipes to try this holiday. They also make great dishes for every day meals, too. Enjoy your feast in moderation then get to the gym after. HAPPY & HEALTHY THANKSGIVING!!